FREQUENTLY ASKED QUESTIONS
Collapsible content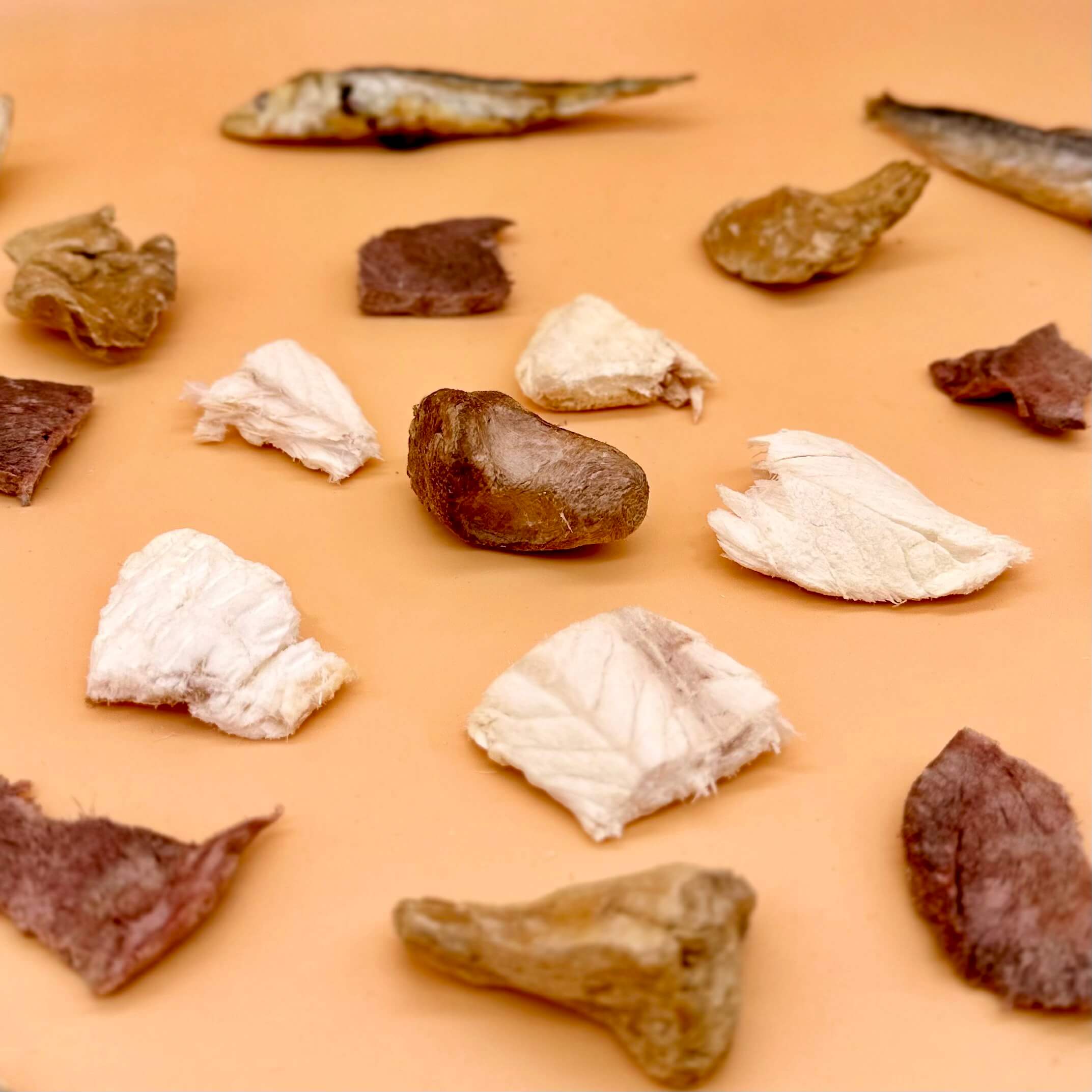 1. Why Choose Wiggly Babies Freeze Dried Raw Snacks?

Wiggly Babies Freeze Dried Raw Snacks are made from single human-grade ingredients with no additives or preservatives, and the raw freshness is unbeatable.

Each ingredient is sourced from individual farms and fisheries that meet HACCP standards. We handle and freeze dry them ourselves at GMP, CFIA, and SQF certified facility.

In essence, we manage every step to guarantee top-tier quality.
2. What Are the Benefits of Feeding Freeze Dried?

Freeze drying is a gentle and minimal processing method that preserves the nutrients, texture, flavour, and aroma of raw ingredients.

Offering the same high digestibility as raw feeding, it combines the advantages of a long shelf life with the convenience of being lightweight. These treats are versatile, ideal for snacks, training rewards, meal toppers, or as enriching additions to regular meals.

Because this is still a raw meat ingredient, be sure to wash your hand before eating your own food :)
3. Where Do You Source Your Ingredients? What is HACCP?

We prioritize local sourcing, and our ingredients are sourced from individual farms and fisheries certified under HACCP  (Hazard Analysis Critical Control Point), an internationally recognized system for food safety.

The human-grade quality of our ingredients means you can be confident that the raw proteins in your fur babies' snacks meet the same safety standards as the food on your own plate.

For a detailed insight into our sourcing, check out the 'Map of Ingredients'. 
4. How Do You Freeze Dry? What Does GMP, CFIA, and SQF Stand for?

Freeze drying, also known as lyophilization, is a process that involves freezing and sublimation.

In short, after you freeze the ingredients to an extreme low temperature, they are put under vacuum and temperature is slowly raised, at which point ice will directly transfer into gas (sublimation), leaving almost zero moisture in the final product.

Sublimation is different from the typical air-dried vaporization in the following ways:

1. Occur at a temperature well below boiling point
2. There's minimal damage or alteration to the protein structure and natural vitamins.

This is a very intricate process typically used in the pharmaceutical and cosmetic industry.

At Wiggly Babies, we manage the entire production ourselves in facilities certified by GMP (Good Manufacturing Practice), CFIA (Canadian Food Inspection Agency), and SQF (Safe Quality Food). As such, we are able to fine tune and control every aspect of the freeze-drying process to ensure the highest standards of quality and food safety.

Our proficiency in achieving these results stems from our deep industry background and expertise. Discover more in Our Story.

5. Once Opened, How Long Do the Snacks Last? How Should I Store Them?

To preserve their crispiness and flavour, always store snacks in a cool, dry place away from direct sunlight, and ensure the bag is sealed tightly.

Once opened, for optimal freshness, it's best to consume our snacks within 4-6 weeks. After this period, they are still good to consume as long as there's no moisture added, but they will start to oxidize and lose some of the aroma and flavour associated with freeze drying.

Alternatively, you can put the bags in the fridge and they will be fresh for 8-10 weeks.

6. How do I Incorporate the Snacks into Meals?

Wiggly Babies Freeze Dried Snacks can be given as a reward or training treat, additionally, they also work really well as toppers on meals and proteins for enrichment formulas.

Check out our list of proteins that pair wonderfully as toppers.
7. How Much Snack Can I Feed Each day?

The appropriate snack amount varies based on your fur baby's size, age, and activity level. As a general guideline, snack bites should constitute no more than 10% of your dog's daily caloric intake.

When giving snack chews, always supervise your dog and ensure they have access to fresh water.